Manchester City has become the first-ever Premier League Club to roll-out cutting edge High-Density Wi-Fi throughout their stadium.
With up to 30mb download speed, the large capacity network marks the culmination of a major digital initiative at the club. The free Wi-Fi technology enables fans to take advantage of the club's range of apps, designed to enhance match-day engagement.
The club recently launched the interactive mobile game City Connect, as well as the travel guide app CityHome, designed specifically with away fans in mind.
The major upgrade to the Etihad Stadium facilities will allow home and away fans to connect through their phone or tablet devices, providing unrivalled levels of connectivity before, during and after games
The High-Density Wi-Fi network, designed and delivered by O2 in conjunction with Cisco is now available throughout the 48,000 capacity stadium, having undergone an extensive installation and testing process.
The new system has been installed throughout the ground, stadium perimeter and BT City Square, the Club's outdoor fan entertainment zone – in order to enhance the overall visitor experience during live games and future events through mobile technology.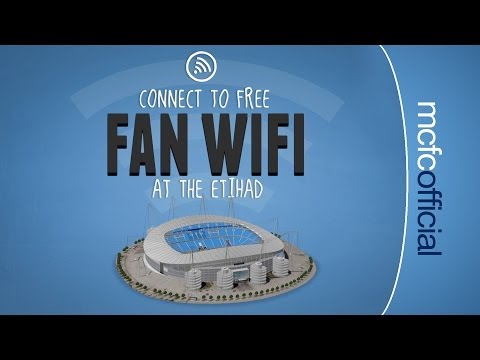 With the new system in place, fans can now check-in to the stadium on Facebook, tweet about their experiences at the Etihad Stadium, post images on Instagram that could then appear on the stadium jumbo screens and watch pre-match videos on City's newly released CityApp.
"The launch of High-Density Wi-Fi allows us to offer free, high speed Internet access to all our fans, marking an important step forward in Manchester City's drive to become the most technologically and digitally advanced football club in the world.

"Mobile technology and social media in particular, play a key role in our fans' match-day experience. It was, therefore important for us to embrace this growing trend and enable our fans to share their passion for the Club with fellow City supporters around the world, in real time, free of charge, all from the comfort of their seat." - Diego Gigliani, Director of Marketing, Media & Fan Development
The Wi-Fi roll-out accompanies the re-launch of the club's primary mobile application, City App. The free-to-download app, updated for iOS's smartphone and tablet App Stores and newly launched on Android's Google Play store (on which it has already received user reviews of 4.8 out of 5.0), includes:
News: Official Club news and match reports.
Videos: Free offering of all the latest CityTV videos including extended highlights, press conferences, news, interviews and features.
Match-day Centre: Live text commentary and team sheets of matches in play.
Fixtures: Calendar view of upcoming fixtures, downloadable to phone's calendar.
Ticketing: Ticket availability and information to buy.
Shop: Mobile-optimised store to browse and purchase MCFC merchandise
Social media: Official MCFC Twitter updates.
"This was a technically challenging project, due to the size and scale of the installation process.  The dedicated Stadium Wireless network with significant download speeds allows us to continually innovate at the Etihad Stadium.  We are now able to integrate our social media and newly installed IPTV and ePOS solutions, enhancing the match-day experience of both home and away fans." - Sanjeev Katwa, IT Director for City Football Group